AK Master Mount™ Optic Mounts
The AK Master Mount™ patented optic mounts are unique and purpose built products for serious AK users. They are built as rugged as the AK rifle itself.
It's low profile with a low axis over bore. It also has our unique quick release "Dual Axis Locking" lever and our "2 in 1" top rail design that can accommodate picatinny or ACOG based optics.  Made in the USA.
It comes in several styles (1) AKM version (for the "standard AK pattern" side rail):  Rear Biased or Full Length top rail.  (2) YUGO version for the factory Yugo side rail.
Quick Installation
Easily adjusts to different width AK side rails.
Easy On / Easy Off
True quick release mechanism.
Built to Last
Machined from a solid block of aluminum to be rugged, but light.
Dual-Axis Locking
AK optic mounts secure to an AK receiver's side rail by one of two main methods. The first method uses a rotating lever that has a contoured portion to rotate and lock into a corresponding cut-out in the side rail. Many of the traditional com-bloc optic mounts utilized this design and are broadly referred to as SVD styled mounts. This method is primarily securing the optic mount in the horizontal axis.
The second method utilizes a rotating lever to deform the bottom part of the mount to "crimp" onto the side rail. These mounts are not really quick release despite their labeling as such, and this mount deformation makes it difficult to resize the mount to a different side rail on a different rifle. The more modern approach to this method is to use the rotating lever to manipulate a spring loaded clamping bar to compress against the receiver's side rail to make it quick release capable. These style mounts are prone to "walking" along the side rail with heavy shooting sessions as they only secure the optic mount in the vertical axis.
We have combined these two techniques in our patented design to firmly secure our optic mount to an AK's side rail in both the vertical and horizontal axis to make it Dual Axis Locking. This secure attachment maintains optics zero even with sustained heavy shooting sessions. Our clamping bar is also longer than the other optics mounts on the market to provide additional clamping surface contact, and we use two springs in the clamping bar mechanism for increased clamping bar stability and true quick release capability.
Low Axis Over Bore
The optic mount's low profile hugs the side of the AK receiver and the dust cover to deliver a low axis over bore placement. This allows simultaneous use of the rifle's iron sights if needed.
Our 12 sided proprietary locking bolt provides for a greater clamping bar tension range, twice that of most optic mounts on the market. This allows for true fine tuning of the clamping bar's clamping force, and it also ensures proper fitting on side rails of slightly different dimensions on different AKs. Optics zero is maintained.
Built Rugged As the AK Itself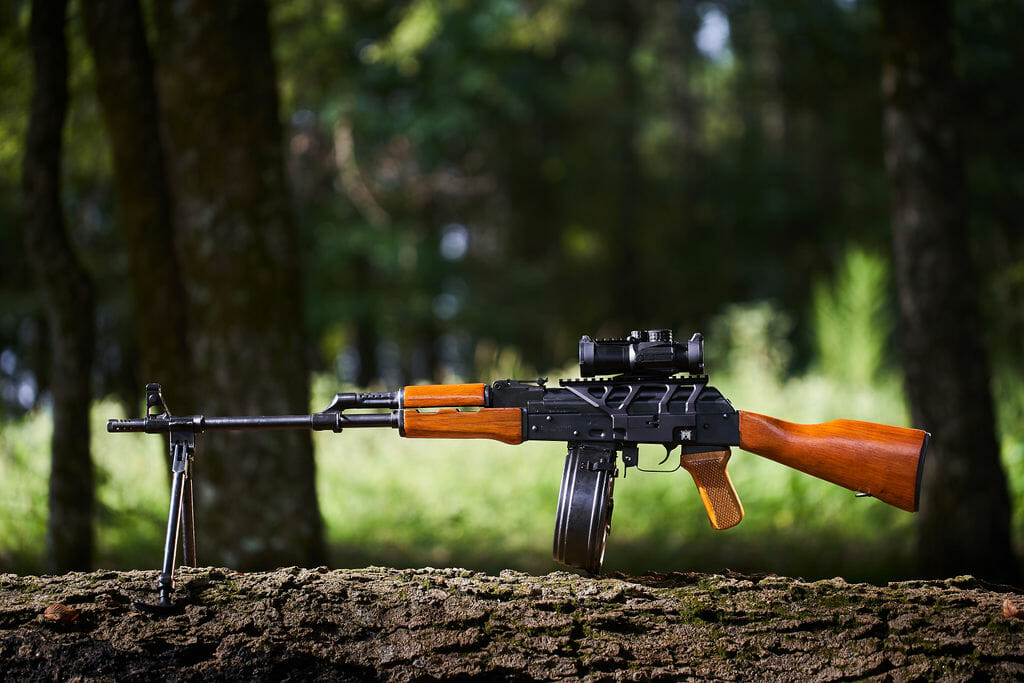 We machine our optic mounts from a solid block of 6061-T6 aluminum to achieve superior strength, but yet be weight conscious. Its one piece design keeps things simple, maintains structural integrity, and avoids fastener failures or movement that can occur in two piece optic mounts. Likewise we intentionally overbuilt our optic mounts with three heavy duty struts to reliably support its integral 2-in-1Picatinny / ACOG rail and any attached optics.
Its robust struts then pleasantly blend into the body of the mount which is also rugged enough to withstand whatever abuses are thrown at it. Despite our mounts ruggedness, we have rounded and contoured the edges to make it ergonomical and snag free. No wimpy levers here. The throw lever is also heavy duty and is fully inset into the body of the mount to protect it from any snags and accidental release.
Compatibility
The AK Master Mount™ AKM version optic mounts are specifically designed for the "standard pattern" AK side rail. It does not fit the Century Arms™ proprietary side rail that is found on some of their AK rifles.  The AKM version is also not compatible with a Yugo factory side rail as they are placed higher and further back on the receiver wall. Thus an optic mount for a standard pattern AK side rail will not sit on a factory Yugo side rail in the correct location over the dust cover. However, when a standard pattern AK side rail (like our AK Master Mount™ side rail) is added to a Yugo rifle or pistol, our optic mount can be used successfully (as is shown in the associated picture).
The Yugo version optic mount is specifically designed to fit the factory Yugo side rail. It does not fit the standard AK side rail.
View the "Installation" section under the "Support" tab on this website for installation video, tips, and troubleshooting guide.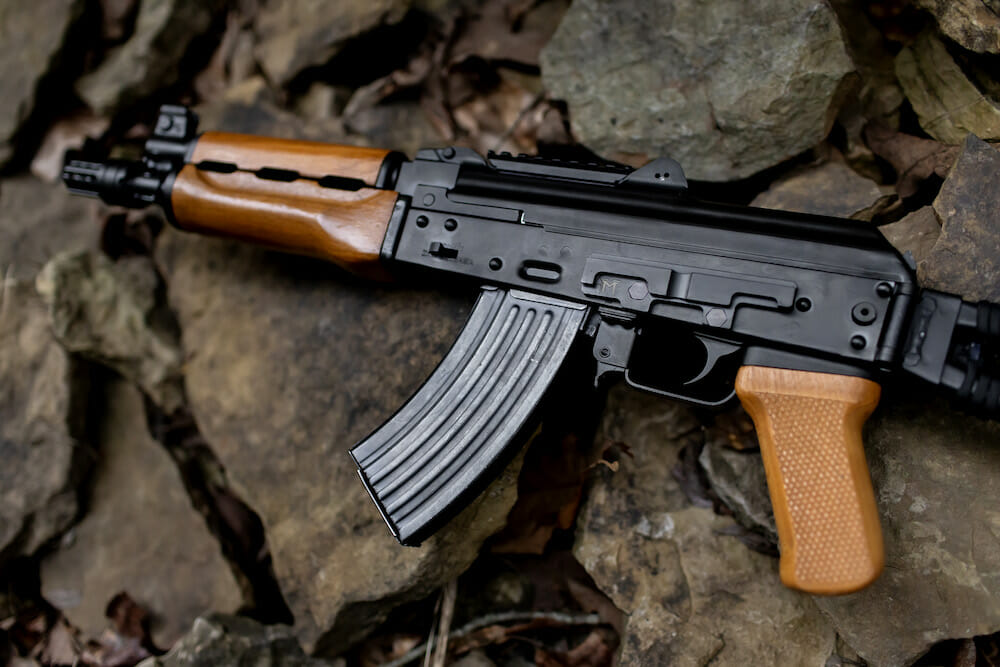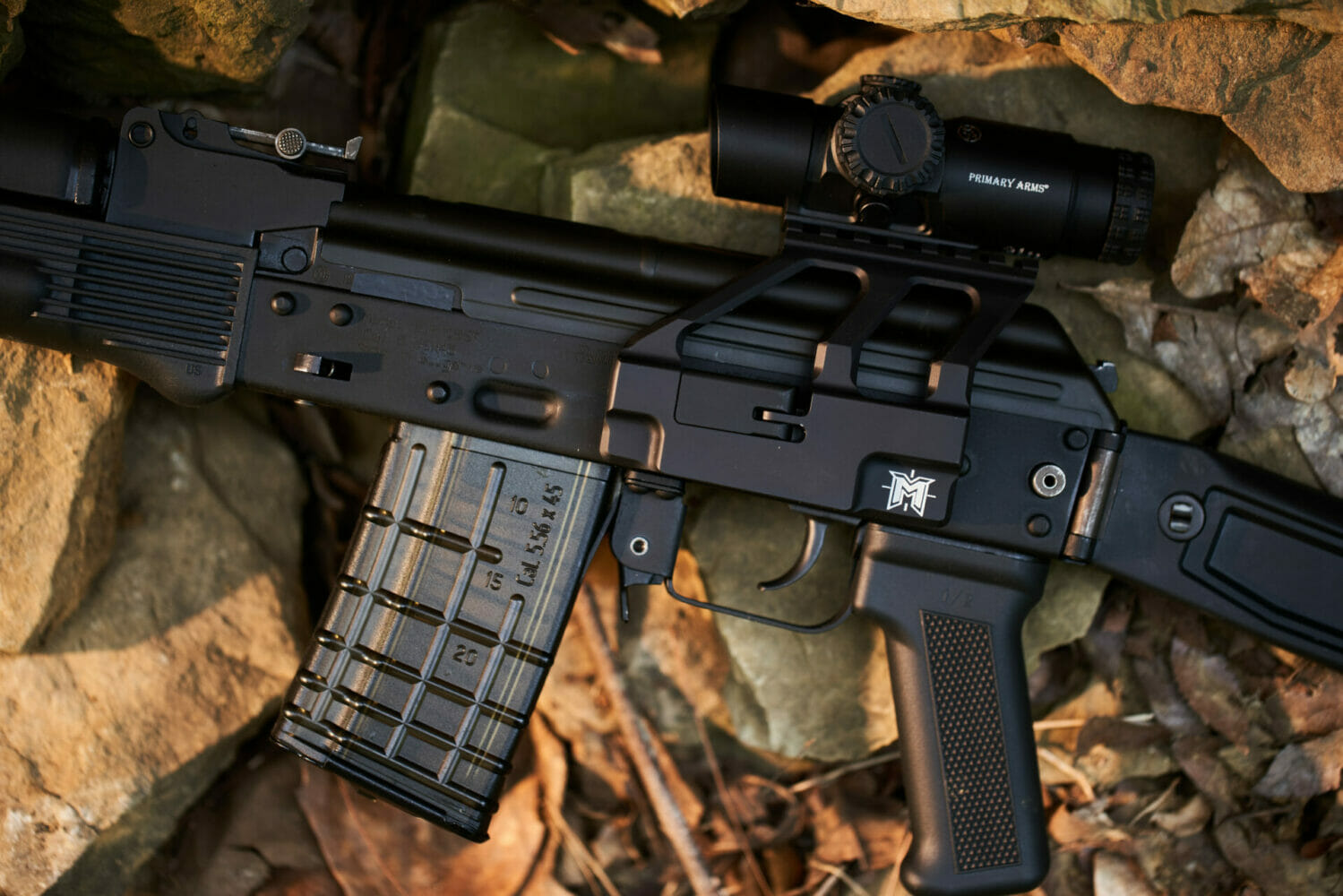 Greater Optics Versatility. Superior Finish.
A unique feature of our optic mount is our proprietary rail on the top. We have combined the standard picatinny rail pattern and the ACOG base pattern into one combined rail section. This "2-in-1" rail design allows for more versatility in optics choice by not having to buy two different optic mounts, or an adapter, to accommodate optics with a picatinny base or an ACOG base.
Both our "rear biased" and "full length top rail" version have the locking lugs for mounting the accessory side rail onto the struts of the optic mount.  On the rear biased version, it's on the back two struts.  On the full length version, it's on the front two and back two struts. On the Yugo version, it's on the front two struts.
Our patented AK Master Mount™ optic mount build is completed with a black hardcoat (type III) anodized finish that not only looks great, but adds additional structural strength and wear resistance.
Rear Biased Version
Its top Picatinny/ACOG rail is 3 inches long and sits at the back part of the dust cover.  It is he perfect length for red dot or holographic sights. Its rail length was also specifically chosen so it would fit behind the rear sight that is often found in the middle of the dust cover of AK pistols such as the Yugo PAP 92/PAP 85 (when paired with our AK Master Mount side rail) or the Romanian Drako. It weighs 5 ounces.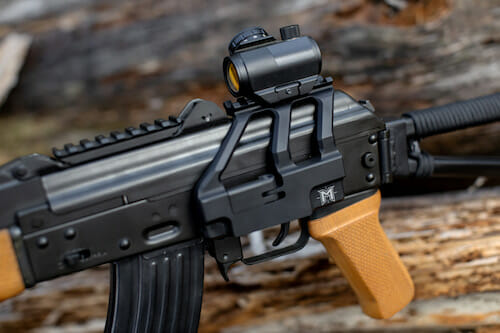 Full Length Top Rail Version
Its top Picatinny / ACOG rail is  7 &1/4 inches long to nearly run the entire length of the dust cover.  This allows for placement of larger optics, magnifiers, or for those who need the optic placed further forward from their eye. It weighs 6.6 ounces.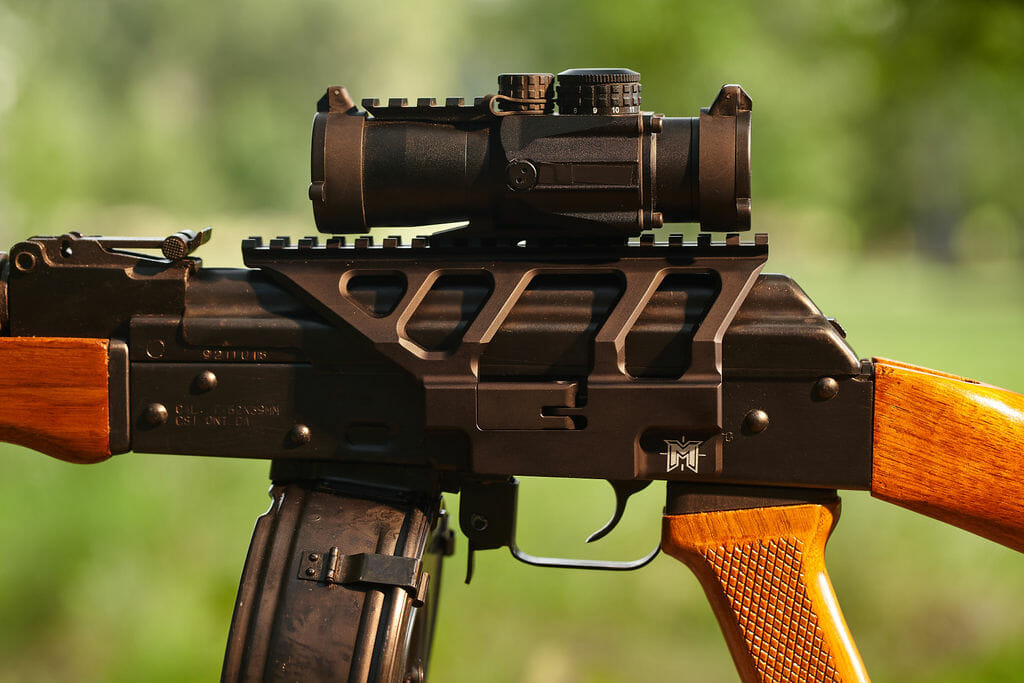 Yugo Version
This optic mount version is specifically for the factory Yugo side rail.  Its top combo  Picatinny / ACOG rail is  6 &1/2 inches long to allow for placement of larger optics, or for those who need the optic placed further forward for proper eye relief. It weighs 7.1 ounces.