AK Master Mount™ Enhanced Safety Lever
We have taken the traditional AKM safety lever and "tactically" enhanced it for the modern AK user. The AK Master Mount™ version of the AK safety lever is rugged 16 gauge steel (1.5 mm thick), has an improved ergonomic extended side tab, bolt-hold open feature, and is fully compatible with the AK Master Mount™ side rail mounting hardware.
5-Minute Installation
All of our components can be installed in 5 minutes or less. No gunsmithing required.
Easy On / Easy Off
If our AK-47 accessories are uninstalled, your weapon is back to factory conditions.
Built to Last
Materials as rugged as the AK itself.
AKM Version
This current version is for the stamped receiver.  We continue our "rugged" theme by making the external part of this safety lever from 16 gauge steel (.060" or 1.5 mm thick); thicker than the other AK safety levers sold.  Note: The safety lever's embossed upper edge is shaped to fit the traditional "com-bloc" dustcover angle profile; it does not match the unique angle profile of Chinese dustcovers.  This AKM version does not fit "Yugo" AKs.
View the "Installation" section under the "Support" tab on this website for installation video, tips, and troubleshooting guide.
Disclaimer: As with any AK accessory part, slight modifications may be needed for proper fitting.
Solid Steel
The internal paddle part of the AK Master Mount™ enhanced safety lever is milled from solid steel.  It is NOT cast like most of the AK safety levers these days.  Yes, we overbuild our products as we are AK purist.  It is the semi-automatic configuration.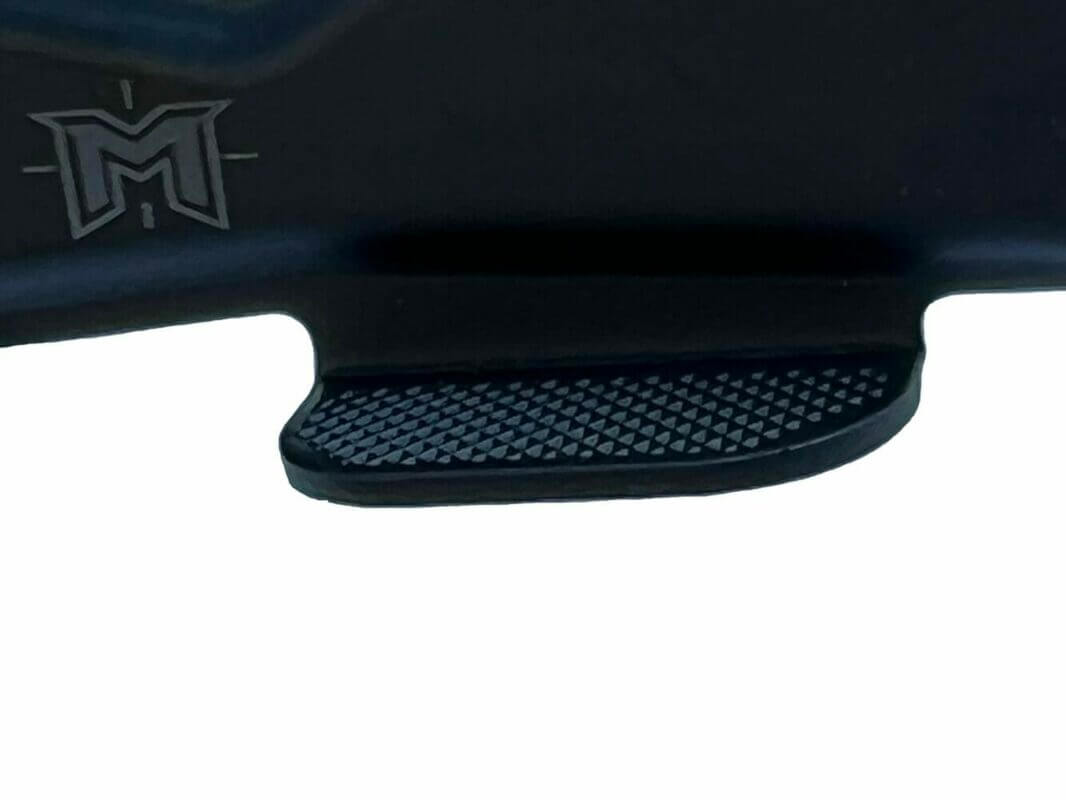 No Other Safety Lever Compares
The extended side tab on our AK Master Mount™ safety lever is also thick 14 gauge steel, thicker than all the others on the market.  This makes it rugged and robust, and it will not cut your finger like the safety levers with "razor thin" side tabs.  It is textured on BOTH sides for better traction, especially if wearing gloves.  The tab is flat to be easy to move the safety lever in the up AND down directions.  The side tab is angled slightly upward from back to front to be more ergonomic.